Meet your seller
Kirstin Lewis of Vitamin Sea & Co
Meet the Artist: Kirstin Lewis MHS, RD, LDN
Owner and artist of Vitamin Sea & Co. LLC. In her off time you can catch Kirstin hanging out at the beach, drinking grapefruit cosmos at the local bars in Newport, experimenting cooking new recipes, on a long walk listening to her favorite podcast, or hanging out in her favorite coffee shops people watching.
Author of cookbook: Good Eats with Kir: A dietitian's guide to a healthier you!
Prior to becoming a resin artist, Kirstin was a registered dietitian. With such a love for food and cooking, after finishing grad school she decided to write and publish her own cook book to help people learn how to incorporate their favorite foods with a healthy twist. Her moto is asking what can you add in to make a recipe more nutritious vs taking out. Her cookbook is available for purchase on amazon.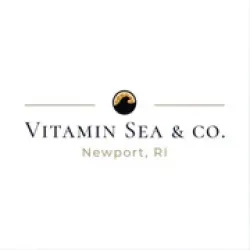 Description
Details
Shipping
Newport Ocean-inspired bamboo coasters, set of 4, with base. Two colors to choose from - Aqua or 2nd Beach Dark Blue
One-of-a-kind functional art pieces using resin and my personalized micro cell technique, paired with my custom blue formulas to create realistic ocean waves on charcuterie boards, coasters, lazy susans, home decor, dog treat containers, and more! *food grade safe*
Vitamin Sea & Co offers:
Shipping via USPS (Calculated at Checkout)
Processing Time
It will take 4 days to process this item before it is shipped.