Meet your seller
Jim Clift of Jim Clift Design - LapelPinPlanet
The Clift Family comes from a long line of artists and metalsmiths. Our craft and artistic skill have been passed down and honed through 4 generations. Jim began his artistic career designing jewelry 38 years ago--until he was laid off. With a 3 month-old baby and a few hundred dollars a month from unemployment, Jim and Lynn knew they needed to do something.
We crafted our future.
The result? Lapel pins are designed and created by a reliable and hardworking family for each and every customer we serve. (And yes, we really do like working together!)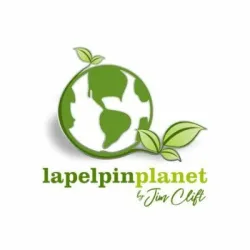 Description
Details
Shipping
Chef's Knife Lapel Pin
The kitchen knife is the chef's best friend. It is not only indispensable, but also an extension of their body. Celebrate the culinary expert in your life with our hand cast pewter knife pin. All our kitchen and chef pins arrive packaged on our signature presentation card, making them ready for gift-giving! Hosting an event, culinary school graduation ceremony, or opening a new restaurant location? Our custom card option allows you to design the front of the card to include a logo, information about your event, or a special message.
1 7/16" x 3/16", 34mm x 5mm
Hand cast from solid, lead-free pewter
Made in the US
Height: 1.00 in. Depth: 0.10 in. Length: 0.20 in. Weight: 0.25 lb.
Categories: Fashion & Apparel, Jewelry & Accessories
Jim Clift Design - LapelPinPlanet offers:
Shipping via USPS (Calculated at Checkout)