Meet your seller
Jim Clift of Jim Clift Design - LapelPinPlanet
The Clift Family comes from a long line of artists and metalsmiths. Our craft and artistic skill have been passed down and honed through 4 generations. Jim began his artistic career designing jewelry 38 years ago--until he was laid off. With a 3 month-old baby and a few hundred dollars a month from unemployment, Jim and Lynn knew they needed to do something.
We crafted our future.
The result? Lapel pins are designed and created by a reliable and hardworking family for each and every customer we serve. (And yes, we really do like working together!)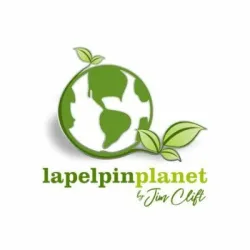 Description
Details
Shipping
Human Heart Lapel Pin - Medical Pins for Hospitals, Nurses, Doctors, and Patients
Nurses, Doctors, Med students, and Cardiology specialists will all appreciate the attention to detail and uniqueness of our anatomical heart lapel pin. Hand cast in solid, lead-free Fine Pewter and then dipped in copper, each piece is an original three-dimensional sculpture signed by the artist, Jim Clift. Our human heart pins come individually packaged on our signature presentation cards. Increase awareness of heart disease and cardiovascular disease by wearing our unique pins. Enhance your Heart Disease events with these heart pins, great for donors and participants. These anatomical heart pins are also a great way for showing appreciation for colleagues, students, and staff.
1/2" X 7/8", 13mm x 22mm

Hand cast in lead free pewter and then dipped in copper
Made in the USA in our Coventry, Rhode Island studio
Secure, metal clutch back
Made with 100% renewable energy and recycled materials
Makes a great addition to lab coat lapels, name badges, and lanyards
Great gift or memento for anyone in the medical field
Height: 0.80 in. Depth: 0.10 in. Length: 0.50 in. Weight: 0.25 lb.
Categories: Fashion & Apparel, Jewelry & Accessories
Jim Clift Design - LapelPinPlanet offers:
Shipping via USPS (Calculated at Checkout)