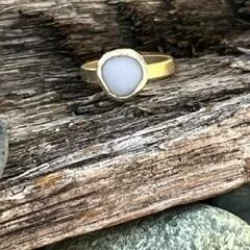 Low Tide Jewelry Co.
Beach vibe jewelry with a nautical focus and as a specialty made with local sea glass and beach stones
Business Overview
Low Tide Jewelry Co specializes in beach stone, sea glass, and nautical jewelry. Custom orders are accepted and often favorite stones or sea glass are set in sterling silver, copper, or brass

Meet Your Seller
Paula Quigley of Low Tide Jewelry Co.
Sand Hill Cove, (now Roger Wheeler State beach), made this shop. Summer days and some evenings on that beach shaped me. I've wanted to wear beach treasure since I was a little girl. If I wasn't in the water with my sister and my cousins, I was on the hunt.
My love of the sand, sea and salt air has only deepened. I hope this little shop brings a bit of soothing to your soul, a piece of the beach vibe to carry with you always.

Wakefield, RI
Member since Jul 2022
Visit
1070 Kingstown Road
Building 9
Wakefield, RI, 02879