Rhodium by RI Spirits
Pawtucket RI's very own gin and vodka distillery! We make Rhodium brand gins, vodkas, and liqueurs. Gluten-free, NGMO, Kosher & Vegan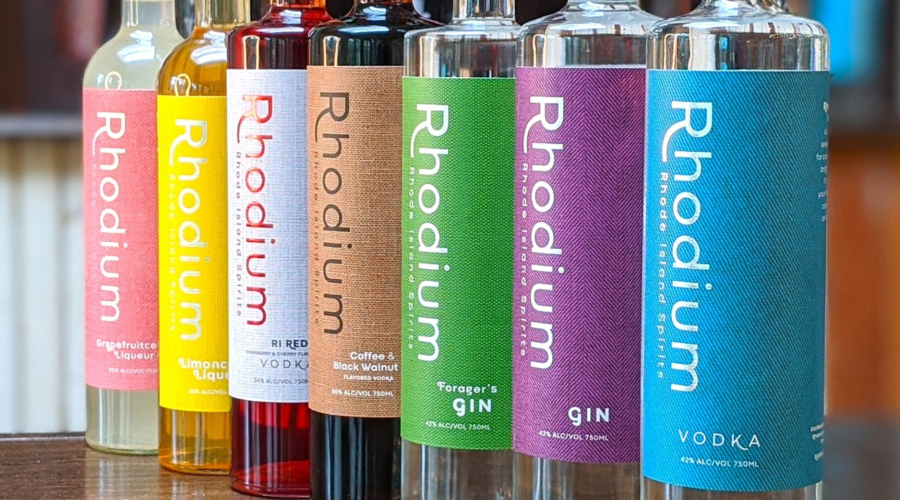 Business Overview
Rhode Island Spirits is the home of Rhodium brand premium gins, vodkas, and liqueurs. The company is the brainchild and full time occupation of Cathy Plourde & Kara Larson, who are the founders, owners, and distillers.
We believe in offering unique flavors and distinctive spirits. Our commitment to gluten-free, organic, and kosher products is rooted in a belief that everyone should be able to enjoy premium spirits that work with their needs. We forage botanical ingredients and partner with local small farms because we value the uniqueness of Rhode Island and the Blackstone Valley. We seek to make spirits here that could be made nowhere else.
Meet Your Seller
Cathy Plourde & Kara Larson of Rhodium by RI Spirits
"How'd you get into distilling?"

If we had a nickel for every time a tasting room visitor asked us that, we'd be delighted. The answer?
Cathy's been an avid forager all her life, bringing delicious things home from every walk in the woods or trip to the coast. In fact, there are days when it seems like she can't leave the house without coming up with some new plant to bring back and experiment with.
Kara was a home brewer and had a job for a couple of years in England, which gave ample opportunity to visit and sample spirits from the booming craft distilling movement afoot in the UK and Europe.
Both of us realized at the same time that moving to Rhode Island was the perfect chance to have our own distillery; the state abounds in botanical ingredients that make for distinctive spirits formulas, its residents and visitors are avid seekers of locally made products, and the City of Pawtucket made for a very welcoming place to start a new business.
We're very grateful for the support we've received so far and hope that as Rhode Island Spirits continue to grow we will be able to give back to the people, city, and state that have welcomed us.
Pawtucket, RI
Member since Jul 2022
Visit
59 Blackstone Ave
Pawtucket, RI, 02860