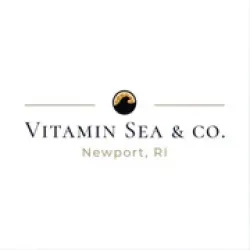 Vitamin Sea & Co
One of a kind functional art pieces using resin and my personalized micro cell technique, paired with my custom blue formulas to create realistic ocean waves on charcuterie boards, coasters, lazy susans, home decor, dog treat containers and more!
Shop Products
Business Profile
Shop Products
Business Overview
Welcome Ocean Lovers!
Welcome to Vitamin Sea & Co Newport! My name is Kirstin! I am excited to announce that we just opened our first physical storefront in the heart of downtown Newport [337 Thames Street Newport, RI -next to the wave statue). Prior to becoming a resin artist, I was a Registered Dietitian. That is how I got my name, Vitamin Sea- a fun play on words with my logo "sun" being a slice of orange!

I spent my summers growing up in Newport with my grandparents and family, so Newport holds a special place in my heart. I am so grateful and honored to be able to create and uniquely decorate your homes with our Newport ocean-inspired products. No two pieces are the same!

While working full-time as a dietitian in a local hospital, my journey into resin started with holiday gifts for my family thanks to a tik-tik I had seen that inspired me to put my creative skills to the test. 6 months later and on many practice boards, in June of 2021 I launched by the website. From there I progressed to local craft fairs-toooo many to count haha. In November, I was able to transition into my new art career full-time! And it has been the most exciting journey. And here we are, opening our first storefront in April of 2022. Every day feels like a dream! I love being able to talk with each and every one of my customers and hear your story! I am grateful that I can pass on some excitement by hosting some other handmade goods by local artists as well! Can't wait for you to visit!

Catch us at local craft fairs this season and follow us on instagram for flash sales @vitaminseaco_newport. See something that is not available, or have an inquiry? Send us an email at vitaminseaconewport@gmail.com. We look forward to hearing from you! Happy shopping!

Meet Your Seller
Kirstin Lewis of Vitamin Sea & Co
Meet the Artist: Kirstin Lewis MHS, RD, LDN
Owner and artist of Vitamin Sea & Co. LLC. In her off time you can catch Kirstin hanging out at the beach, drinking grapefruit cosmos at the local bars in Newport, experimenting cooking new recipes, on a long walk listening to her favorite podcast, or hanging out in her favorite coffee shops people watching.
Author of cookbook: Good Eats with Kir: A dietitian's guide to a healthier you!
Prior to becoming a resin artist, Kirstin was a registered dietitian. With such a love for food and cooking, after finishing grad school she decided to write and publish her own cook book to help people learn how to incorporate their favorite foods with a healthy twist. Her moto is asking what can you add in to make a recipe more nutritious vs taking out. Her cookbook is available for purchase on amazon.
Newport, RI
Member since Jul 2022
Visit
337 Thames St Unit 15
Newport, RI, 02816